Introduction 
These days, individuals face a common issue about data loss with a computer, SD card, cell phone, or hard drive. Most people keep data on their computers, such as documents, videos, photos and so on. Suppose you are looking for a simple, easy and powerful tool to recover permanently, delete photos from the computer. Then there are various methods available that can help recover data most efficiently and reliably. Recoverit tool is the most effective among them. So, here we will discuss major reasons for photos being corrupted, different methods to recover these files and how we can use Recoverit to recover permanently deleted photos.
Common reasons for photo loss 
If you faced a photo loss issue and thought about the reasons behind them, you can go through the following reasons that can delete or corrupt your photos.
Malware or virus attack on the photo storage device.
Removing the SD card from the device improperly.
Accidently or intentionally, you have hit the Delete key.
Your SD card has been corrupted.
Your SD card has been damaged due to external reasons such as heat and water.
You have removed or mishandled the SD card.
Inaccessible storage device.
Accidental formatting of the storage device.
Common ways to recover deleted photos
The most common methods to recover deleted photos from different devices are as follows;
Look in Recycle Bin: The Recycle bin is the first place where users have to look for deleted images on the windows system. It is a special folder where the operating system can restore the recently deleted photos. Files remain in the Recycle bin for a predetermined time or until the bin has been emptied permanently.
Try Backup Files: Users should be back up their computers regularly to protect their data from loss. The loss of photos and other scenarios can demonstrate the value of setting the backing system.
Use photo Recovery tool: The photo recovery tool is another solution to get your deleted images that are no longer in Recycle bin, and you cannot locate them on the Backup. Then, many photo recovery tools are available that can recover all types of deleted photos.
Use a data recovery service: You have encountered situations that demand professional data recovery These services can help to recover data when all methods have been failed. The most important point is to get the right service and storage media for storage media delivered to them.
Clean your storage media from virus infection: Maybe your SD card has been infected with the virus or malware. So, clean your SD card.
Use system search capabilities: There are also some chances that you have misplaced the deleted photos and saved them to an unknown location. So, you can use the search facility provided by your system.
How to Recover deleted photos with Recoverit?
For those looking for a photo recovery tool, Recoverit is the most important tool that can help recover deleted photos. It is the safest and most reliable program that helps access and retrieve deleted photos. You can recover all photo file formats such as JPG, PNG, GIF, DNG, RAW, and JPEG with the photo recovery software. No matter where and how you have lost your photos, the Recoverit data recovery tool can recover all photos easily. So, follow the following steps to help you recover all deleted photos.
It is extremely easy to use Recoverit to completely recover deleted pictures without any knowledge of technology. Just download the Recoverit and install and follow the steps given to recover deleted photos.
To start the photo recovery process, launch the Recoverit photo recovery tool. After that, you have to select a hard disk where you have deleted your photos. Next, click on the start button to start the recovery process.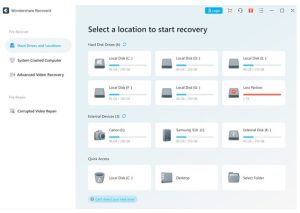 The software will start to scan your selected hard disk to find the deleted photos. During the scanning process, users can also preview their photos.
Now you can preview all the recoverable photos and select the desired location of the photos you want to save after recovery. Finally, click on the Recover button to get photos back.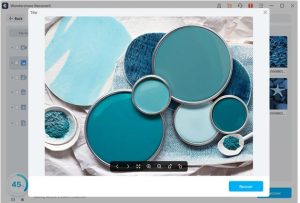 Conclusion 
Users who want to know "How to recover permanently deleted photos" can use this post. This posy has all desired instructions, causes of photo loss, possible methods to recover deleted photos. All these instructions are one package where you can get all knowledge about deleted photos. With the help of the Wondershare Recoverit recovery software, users can easily retrieve their permanently deleted pictures. Moreover, this process and application are quite safe and secure, and anyone can download and usage without being worried about any mishap. Just go and download Wondershare Recoverit to recover your permanently deleted photos. I hope you will never be disappointed by using this wonderful tool.