Introduction
Do you have worked with PDF files? This file format has been developed by Adobe and consists of all the required documents that are important to show the entire content in one layout. Despite the operating system, users can easily share this document securely. While working with these files, sometimes users encounter messages such as your PDF files have been corrupted or not readable. If you are getting this error, it's a danger because it can lead to the loss of your important data. That's why here we will discuss major reasons for pdf files being corrupted, methods to repair these corrupted files, and how we can repair pdf files with the help of software such as Wondershare Repairit.
The cause of PDF file corruption
The major reasons for pdf files being corrupted are;
Improper download: While downloading the PDF files, sometimes the user has to face the issue of an unstable internet connection. It can lead the file failure and incomplete download. This issue damages the file structure and results in being corrupted pdf file.
Issues with hard drive and storage media: If you have stored the pdf file on corrupted hardware, USB device, or other social media, it can corrupt your pdf file too.
Unexpected system shutdown: Sometimes, you suddenly face a system shutdown while working on your computer down. It can be due to power failure or any other internal system error. Moreover, if you are working on transferring your pdf files, there are maximum chances of the corrupted file.
Malware or virus: Any malicious file in your system can also lead towards possible compress pdf files being damaged or corrupted.
Virus: Any virus or malicious file in your system can also cause corrupt or damaged PDF files.
Incompatible programs: Usage of incompatible programs to open PDF files can also damage your files.
Common ways to repair pdf files
The most common methods to repair pdf files are as follows;
Try Alternative PDF Reader: If Adobe Reader cannot access the PDF file, then it can be possible that your file is not corrupted or damaged, but the application you are using is unable to open the file. So, try other PDF readers and see you can open a file properly or not. The most common applications other than Adobe Acrobat Reader are Sumatra PDF or Foxit Reader.
Restore the previous file version: If repairing Adobe PDF cannot solve your problem, then the other method to repair a corrupted PDF file is to restore the previous version of the PDF file. In this method, users can restore the previous version of the PDF file. Windows provide a built-in feature that can back up the various versions of the file in case they are needed. The previous version of the file can be restored if you use the latest version that has been corrupted.
Use the Free online PDF Repair tool: There are many PDF repair tools available in the market that can be used to repair corrupted PDF files. These online PDF readers are mostly free, so you don't have to worry about the costs to repair corrupted PDF files.
How to repair PDF files with Repairit?
Wondershare Repairit is a professional file repair tool that can repair damaged PDF files easily. This application is compatible with Windows 11/10/8/Vista/7 and supports PDF files. Repairit can help users to restore all the content of PDF files. It supports table format, image format, word art, comments, header, footer, etc.
First, download and install the Wondershare Repairit and select the file you want to repair. If you are interested in repairing more than one file, you can add more PDF files using the Add button.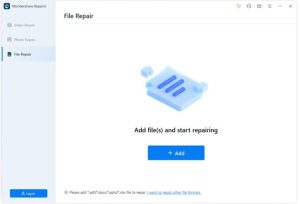 After adding all the files, you want to repair, click on the Repair button to start. You can also stop the repairing process from the ongoing to the repairing process.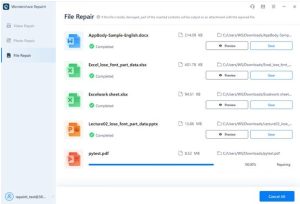 Once the repairing process is complete, view the repaired PDF files click on the OK button. You can save it in the desired location when you are sure that you have gotten a completely repaired file.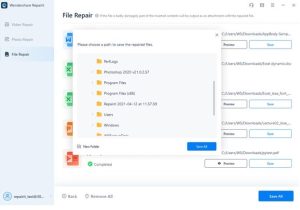 Features of Repairit
Repairit can repair damaged or corrupted files and all their components.
Users can repair all music, graphs, videos, text, digital signatures, graphs, and other content of PDF files.
Users can also repair PDF files stored on external devices.
Conclusion
PDF files can be saved or your system storage or any other storage media that can be damaged or corrupted at any time. The reasons for data corruption can vary, but you can recover them easily. We have discussed many methods to recover your damaged or corrupted PDF files. Wondershare Repairit is the most recommended software to recover all PDF files. However, during the recovery process or working on the PDF file, if your file gets damaged, Repairit can help recover any type of data.