Table of Contents
Introduction
Setting and configuring Sigsync
System Requirements and Specifications
Functions and Working
Interface
Configuring and adding tenant
Sigsync template gallery
Sigsync Signature Editor
Signature Components
Signature Rules and Conditions
Scheduler
Free Customer support and live demo
Free Signature Design
Sigsync signature modes
Server side signature mode
Client side signature mode
Mixed mode signatures
How does Sigsync help in centralized signature management?
Salient Features and use cases
License and Free Trial version
Reseller
Final Verdict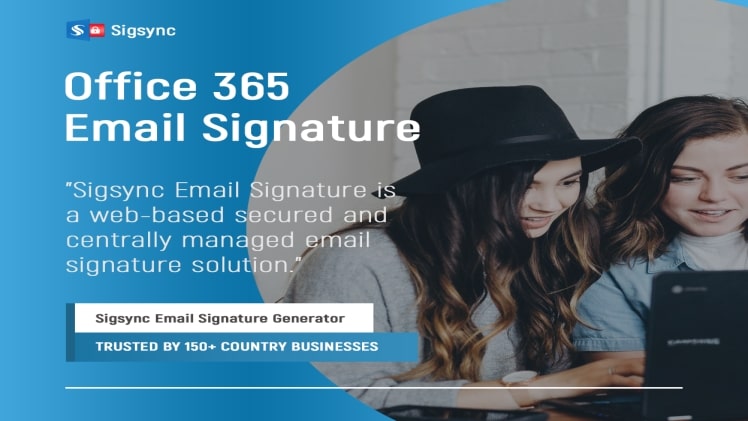 Introduction
An email signature, when used correctly, can help a company in a variety of ways. A legal disclaimer in a signature can ensure legal compliance, whereas a marketing-based signature with a clear call to action can convey a professional image to recipients. However, we frequently see disparities in quality and substance from a variety of companies. As a result, businesses must seek out a third-party email signature solution that ensures reliability while also providing centralized signature management and professional design options. It must be simple enough for an IT administrator (if necessary) to manage while also allowing that responsibility to be delegated to another. It should also be strong enough for someone with a PR background to ensure that the banners and visuals are properly positioned and consistent across all devices.
And it is in this area that Sigsync's centralized Office 365 email signature solution shines the brightest. We examine all aspects of Sigsync, beginning with its initial configuration and ending with the creation of a signature and license plans. Finally, we provide a thorough evaluation of the product.
System Requirements and Specifications
Sigsync has the fewest requirements because it does not require any installations. It is very convenient and portable, and it works on all devices. To use the service, all you need is a web compatible browser. The table below summarizes the system requirements.
System Requirements
Any latest and web compatible browser
Chrome, Firefox, Opera, Microsoft Edge, Safari
Microsoft Office 365 account
Trial or Licensed version with Exchange online included with Global admin rights
Sigsync Signatures Outlook Add-in
A modern and web compatible browser for Outlook on the Web (OWA)

Chrome, Firefox, Opera, Microsoft Edge, Safari
Microsoft Outlook connected to Office 365 subscription
Outlook 2019 (Build 14131.20360 or higher), 2016 (Build 13929.20296 or higher)
Microsoft Outlook required?
Yes for accessing the Sigsync Signature Add-in
Functions and Working
Let's take a closer look at the various functions and how Sigsync works in this section.
1. Interface
Sigsync provides a well-designed Dashboard with all of the functions needed to create and use email signatures. The process for adding an Office 365 tenant is simple and straightforward, and it can be completed entirely through the dashboard.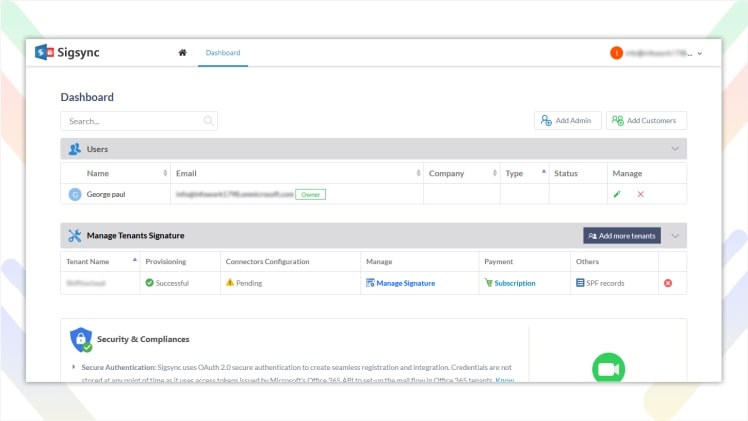 It's worth noting that you don't need an Office 365 account to use Sigsync's main interface (the Login and Dashboard). However, in order to add a tenant and configure signatures for it, you must have an active Office 365 account (Either Trial or Licensed)
2. Configuring and adding tenant
To add a tenant, click on the Add Tenants and Manage Its Signature. After logging into Office 365, you'll be directed to a page where you can authenticate your tenancy. After you've authenticated, select the server that is closest to your location.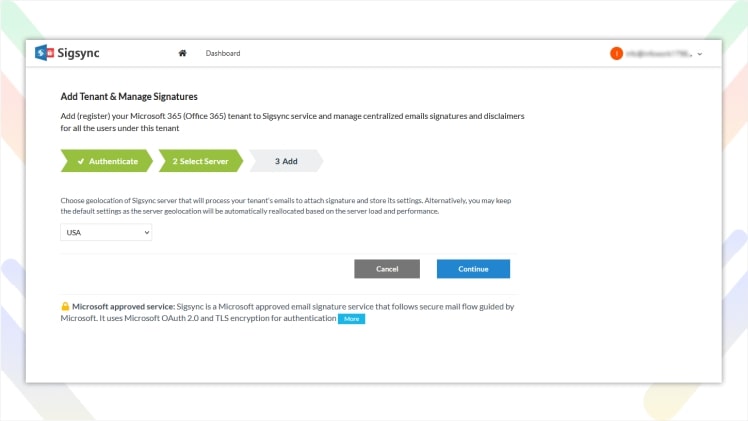 This procedure takes a few minutes, and once completed, the tenant will be properly listed on the Dashboard page beneath 'Manage Tenant Signatures,' as shown above. We discovered that adding the tenant and setting up the first configuration was relatively straightforward.
3. Sigsync template gallery
With Sigsync Email Signature for Office 365, you can choose from a variety of professional and personalized signature templates. The signature generator can quickly change selected templates, and they are fully customizable to meet your needs. There are a variety of predefined layouts available such as Corporate, Company, Outlook Signatures, Personal, Instagram, Twitter addon, Mac, iPhone, Android, Email Signature with GIF, Dark mode Signatures, Disclaimers.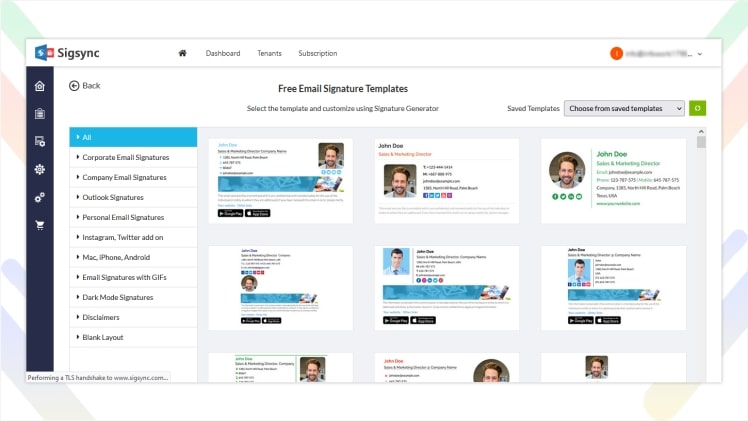 4. Sigsync Signature Editor
We couldn't ignore Sigsync's Signature Editor and Free Signature Design whenever we turned to the other topics. The feature-rich generator is definitely worth mentioning because it allows you to drag and drop the required components and experiment as much as you want. This is where you can put your creative design skills to use, create the best signature, and pat yourself on the back when you get a brand new design. The editor is completely customizable, with a plethora of options for making your one-of-a-kind design stand out.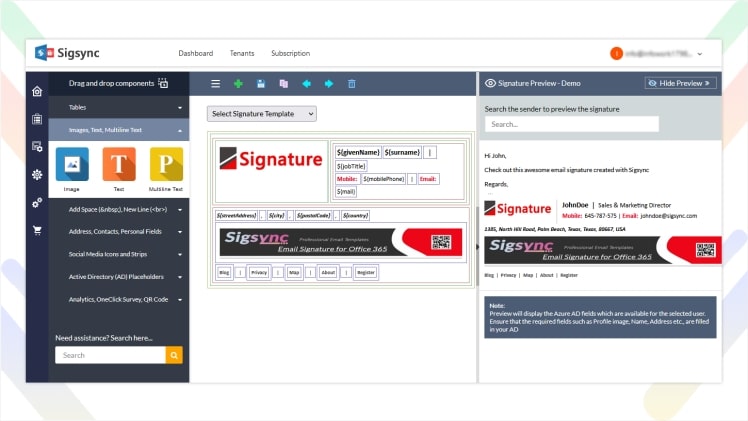 Another attribute of the Email Signature Generator is a feature-rich WYSIWYG editor that manages all HTML code seamlessly. To get a new signature look every time, we could add any design elements to the email signature area, such as social media icons, analytics, and banners. This also provides us with limitless opportunities to mix and match awesome signature templates to create our own unique design.
5. Signature Components
There are individual signature components as outlined above such as Tables, Image Fields, Personal Fields, Address Fields, Social Media Icons, Analytics, One-Click Surveys, QR codes, that can be  included in your signature.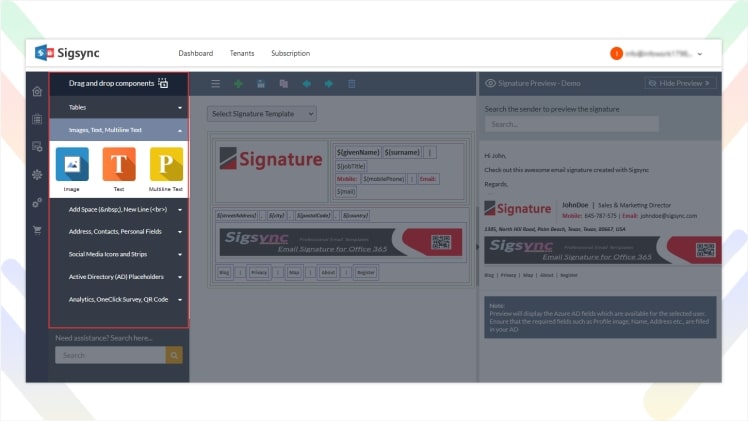 All of the components can be dragged and dropped onto the signature template, where they can be edited as needed. Furthermore, banner components, contact information, custom attributes, website and meeting links, and so on can be included. If you want to import your signature, you can do so by importing the signature template from the HTML code.
Extra features for each signature component include Hyperlink, Wrap, Unwrap, NewLine, align them to the center, left, right, or bottom etc
You can change the font and alignment, add padding, change the height, width, and margin of the photos, add a backdrop or border radius, and so on. Sigsync allows you to remove empty Active Directory fields from the signature template, such as faxNumber and mobileNumber, so that the empty entries do not appear in the signature.
6. Signature Rules and Conditions
Sigsync is unique in that you can add signatures based on your own set of rules. You can, for example, define different signature templates for specific users or groups of users by establishing signature rules. Signatures can be included or excluded based on keyword phrases, and signatures for specific recipients can also be excluded. You can apply a different rule to future signature templates for a reply or forward message by selecting the rules. The rules can also be ranked in order of importance based on priority. This is especially useful when the signature must first be assigned to one team before being assigned to the others.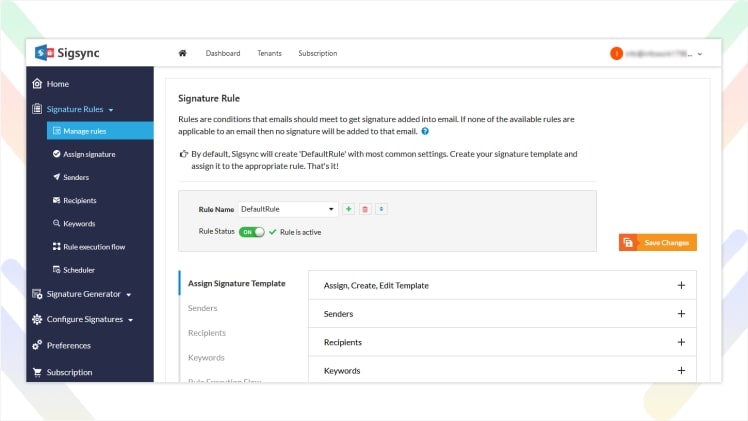 With the rule-based signature, you can also add signatures based on specified groups. Make a personalized banner and signature for the required group. Individual teams can be assigned signatures that are unique to them using this approach.
7. Scheduler
The Scheduler is an important feature that allows you to include time-sensitive signature campaigns, promotions, and events in your emails. It can be set to run for a set period of time, such as daily, monthly, weekly, or at intervals.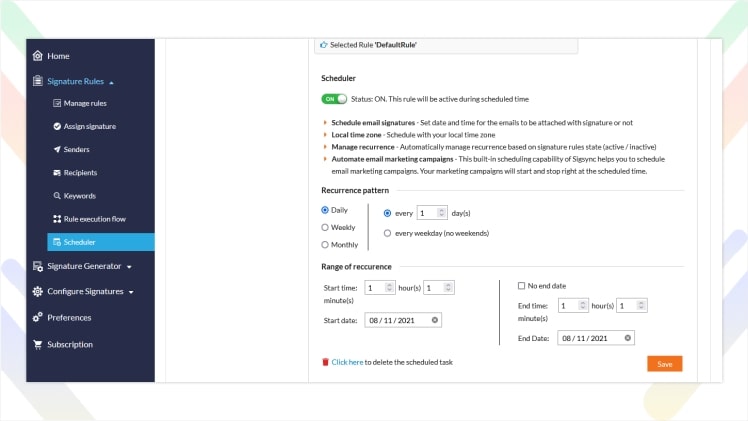 This feature piqued our interest because it allows us to save time when organizing and managing signatures for various events, as well as carrying out specific marketing strategies.
8. Customer Support
Sigsync provides free customer service 24 hours a day, seven days a week to help with any concerns, queries, or feedback. The live chat window is the best way to contact them. They responded quickly and politely when we approached them about the free live demo. If you're having trouble grasping the fundamentals of Sigsync, we strongly advise requesting a free live demo, during which an expert representative will walk you through the entire product, from the initial set up steps to the signature creation and the various options. We must say that the entire session was both engaging and informative.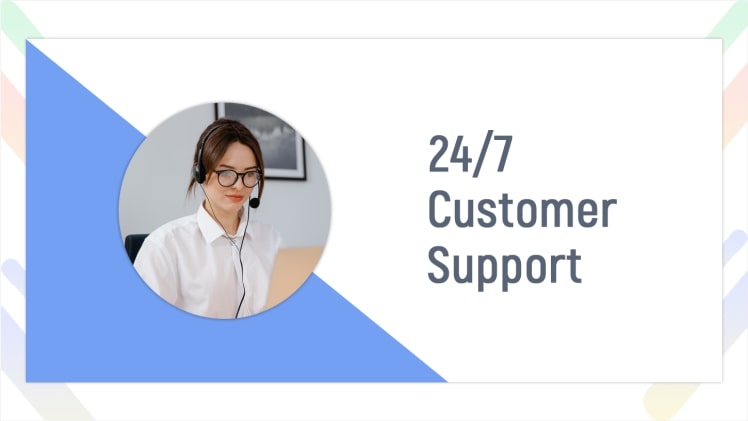 9. Free Signature Design
If you're having trouble getting signatures for your entire team or need quick signatures for specific events, we recommend using Sigsync's free signature design service to get a customized design of your choice. This is an additional feature that enables you to contact the Sigsync expert team and have your signature template created for free! This is one of the distinguishing features that we could not find in any other signature solution.
Sigsync signature modes
However, one aspect of the signature deployment procedure that piqued my interest was the process of selecting one of three signature modes. There are three modes available: server-side, client-side, and mixed. Let us go over them in depth.
1. Server side signature mode
Sigsync connector configuration is required for server side and mixed mode. In the server mode, the messages are routed to the server where the signatures are appended.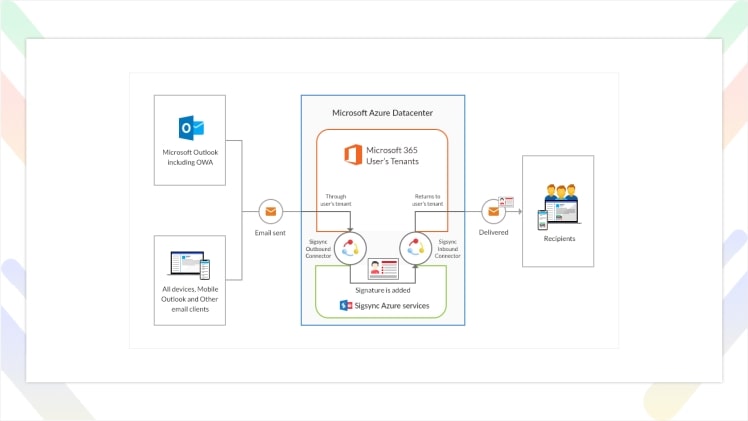 2. Client side signature mode
Client-side signature mode necessitates the installation of the Sigsync Outlook Add-in but does not necessitate connector configuration. This mode allows you to add signatures on-the-fly as you compose emails in Outlook or OWA.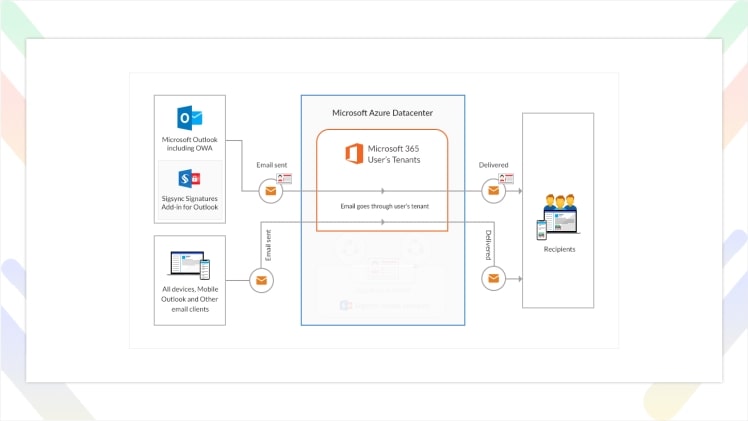 3. Mixed mode signatures
When adding signatures in mixed mode, you can use both the server and the client side mode of adding signatures.
Salient Features and use cases
In this and the following sections, we will go over some of the most important features and common use cases for Sigsync.
Versatile experience — create and maintain email signatures from any platform using a web browser (Windows, Mac, Android, iOS, etc.)
Centralized — Complete control over the signature and email formatting. Email signatures can be updated instantly across the entire organization.
Company wide — Appoint certain individuals or teams to control email signatures and banners for a specific team (for example, the Sales team) or the entire company.
Built-in HTML signature template editor and pre-designed signature layouts
AD Placeholders that are dependent on the sender's and the organization's properties
Schedule and Track automated

email signature marketing campaigns

and their results in real time.
Use Cases:
We go over a typical use case scenario to highlight and explain how Sigsync helps people solve problems. In today's corporate environment, a professional email signature with brand consistency, a compliance legal disclaimer, dynamic marketing material, and the ability to work across many web-enabled devices is expected. However, IT departments normally have difficulty adopting Microsoft 365 (previously Office 365) Transport Rules for email signature management, especially when multiple rules are required.
This is taken from an excerpt of the user's voice "We attempted to manage our Microsoft 365 (previously Office 365) signatures using Microsoft's Transport Rules and found them to be a nightmare. It was simply too difficult to ensure that each office location had a trademark template that matched the company's brand. At the same time, we needed to prevent our users from doing whatever they wanted with the signature they had been assigned. Our brand is extremely important to us, and we couldn't risk tarnishing it by not being consistent with our email signature designs. Finally, we determined that looking into an Office 365 email signature management solution was the best course of action. We were eager to give it a shot to see if it would meet our requirements. With so many different offices around the world, we were convinced that we needed to move away from the Transport Rules, so Sigsync Signatures for Office 365 appeared exactly to be the solution we required."
License and Free Trial version
When compared to its competitors, Sigsync offers one of the most cost-effective and comprehensive pricing plans on the market. Subscriptions can be purchased on a monthly or yearly basis and can be changed as needed. The annual subscription includes an additional month of free service. At any time, you can easily switch from a monthly to a yearly subscription. Sigsync offers additional discounts to nonprofit and government organizations. It costs $90 per month for 100 users, with licenses based on the number of users who use the Sigsync service (sending email addresses). This means there are no limits or constraints to the number of emails you can send from a specific address, making it an extremely cost-effective email signature service. Both the free and licensed versions include free 24/7 customer support and lifetime free software updates.
To try out all of Sigsync's features, Sigsync provides a 14-day free trial with 1000 user licenses. It does not require a credit card or payment information to use the trial version.
| | | |
| --- | --- | --- |
| Sigsync features | Trial Version | Licensed version |
| All features | | |
| Period | 14 days | Monthly or Yearly |
| Cost | Free | 90$ for 100 mailboxes (monthly) |
| Free 24/7 customer support | | |
| Free Email signature design | | |
Reseller
Sigsync allows Resellers to add their accounts, which is another nice feature that provides flexibility. A Reseller purchases licenses in bulk on behalf of customers. They can invite customers and clients, as well as assign licenses to their tenants. Resellers can change the number of licenses at any time and use an activation code to activate the tenants of their customers/clients. Customers and clients can manage their signatures using the Sigsync Office 365 Email Signature service.
Final Verdict
When I submit a review, I give it an overall rating between 0 and 5, with 5 being the highest possible score. I give Sigsync Email Signatures five out of five stars. After all, there's almost always a way to improve things. However, in the case of Sigsync I honestly couldn't think of anything that needs drastic improvement. It has outperformed my expectations and delivered a superior product in every way. For anyone who wants more control over their email signatures, Sigsync is the best Office 365 email signature and a  must-have. It perfectly enables complete control, centralization, and signature management from a single location.