If you want to secure your web profile from having your data exposed or having to deal with any security difficulties, you should consider using VPN services. iTop VPN is your best free VPN option in this situation. We're here to help you with any problems you're having with it on your device.
What are the benefits of using the iTop VPN?
This world is full of hackers and people who try to profit from or harm you by abusing your information and property. While having an online presence is important for everyone, security must be a top priority.
iTop VPN can help you by providing the necessary encryption and privacy. It provides 1800 VPN servers in over 100 locations, which means you can connect with a fast speed at any of your locations. Besides, iTop VPN provides dedicated streaming, gaming, P2P and social network VPN servers to help you get the geo-locked content from anywhere.  So, with the help of things like a fake IP address, unblock content, and other necessary protective features, you can get the security that you require from hackers and enjoy the whole Internet world with no limit.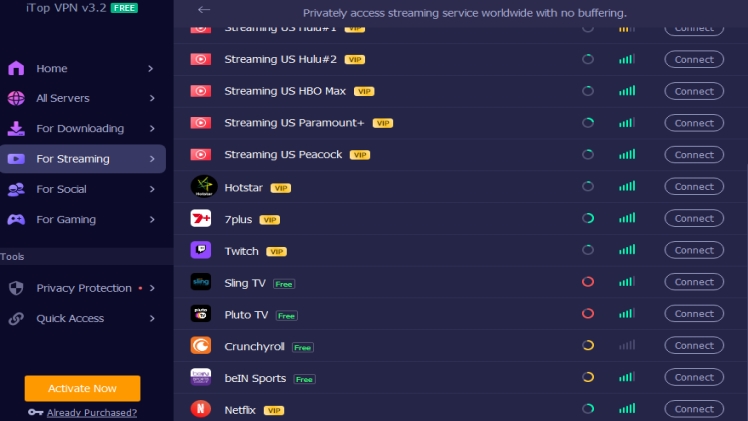 How to use iTop VPN: A Step-by-Step Guide
It can be difficult to use a VPN to access content or to keep your information private at times. The main reason for this is that you can't find the right process to use it with. So, when you choose iTop VPN, we'll show you step-by-step how to utilize VPN to view the material or keep your information private.
Step 1: Download and install the software
If you want to use iTop VPN to view content or keep your information private, the first step is to download and install the software. On the official website, you can find the best option for your device. Select the installation method and install the software to your Windows, macOS, Android & iOS devices.
Step 2: Get everything ready
After you've installed your best free VPN app, you'll need to configure it. When you first start the app, you may be asked to enter some login information as well as control choices. You must configure them in accord with your needs
Step 3: Prioritize your streaming and gaming needs
After you've set up your best free VPN, you'll need to deal with services like streaming and gaming. You can browse the dedicated streaming and gaming VPN servers it has through your app's main and connects to the VPN servers for streaming or gaming. iTop VPN can access geo-locked content of Netflix, Disney Plus, Prime Video, etc, and games of PUBG, Call of Duty, Roblox, etc with a click.
Step 4: Connect and have fun
Once you've completed all of the connection and setup steps, All you have to do now is click the Connect button and you're ready to go. The VPN also has a Quick Access tab to list the most common streaming and gaming servers so that you can quickly watch Netflix, play PUBG, access WhatsApp, etc from the tab.
Conclusion
You could be looking for information on how to use a VPN to keep safe online and access all restricted websites. This step-by-step guide can assist you in using iTop VPN from installing it, setting up it, and how to use the VPN for streaming and gaming. If you didn't download it yet, download it now for free and start connecting to the Internet.