Recording a screen is now included in most of the smartphones.  Unfortunately, it's not the case with a computer or laptop.  If you deal with a lot of conference calls or online classes and want to record them from the Windows screen, you'll be happy to know that there are free solutions, like iTop Screen Recorder.
iTop Screen Recorder lets you record everything that happens on your screen, as well as the audio and webcam. In meetings, online seminars, or creating video lectures, you can be more efficient using the recording app. 
No time limit
The recording time restriction is one of the most annoying aspects of using a third-party screen recorder. The majority of company officers use a free screen recorder to capture video tutorials, HD videos, gaming blogs, and other things. Despite the fact that the screen recorder claims it is free, each recording is limited to a certain length of time,
and having your screen recorder stop recording at an unexpected time might make or break the entire experience. On the other hand, iTop Screen Recorder is absolutely free and has no time limit. That means the user will be able to record without worrying about it being cut off automatically.
No watermark
You need to upgrade to the Pro edition to remove the default watermark and add your own one ($26.99/year subscription). Then you don't have to worry about annoying watermarks on the footage you capture and no risk of the video being stolen.   As a result, the video can be used for any purpose.
Customized screen capture
Unlike most other screen recorders, iTop Screen Recorder allows you to record any parts of the screen that you want to capture. That means you can either capture the entire screen or only the frames from a particular region you want to record. As a result, you'll spend less time on frame correction when editing. 
Light and productive
Do you have a low-spec computer? You don't have to be worried since iTop Screen Recorder has you covered. The software is quite light ( less than 25MB), and unlike other heavy screen recorders, it does not take a lot of memory. Even if it's light, you won't have to make any compromises in terms of functionality using its all-around recording and editing features. The software also uses GPU hardware acceleration to make the recording smooth with no lag.
As a result, the recording and editing processes become much more efficient, resulting in the perfect stability that we all want.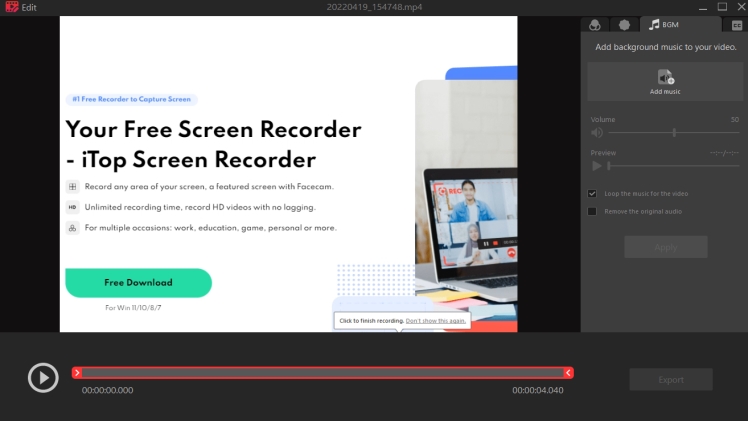 What's new about iTop Screen Recorder?
+ A brand new game recording option to make game recording easier and smoother.
+Added a backup option that allows you to restore recorded video in the event of a system crash, insufficient storage space, or a power outage.
+ Added the ability to delete files to the Recycle Bin to prevent data loss due to accidental deletion.
+ A hotkey has been added to enable or disable the camera during recording.
+ A new GIF editing to improve video quality while reducing file size.
+ Improved video editor for easier and more precise video trimming.
+ Windows 11 is fully supported.
+ Better UI for a friendly user experience.
+ Supports 33 different languages.
Sum Up
iTop Screen Recorder is a free and powerful recording solution for everyone on Windows.  It has no recording limit, no default watermark, and records the webcam and audio into the video.  Being secure, hassle-free, flexible, and easy to use, the software offers the best of all worlds.