Online photo editing makes everything much more convenient, although it can also have its own drawbacks. Compared to a dedicated photo editing software, online photo editing websites do not offer as many tools and options. This makes users look for multiple online platforms in order to get different photo editing solutions and tools. Platforms such as VanceAI aim to offer a professional experience to users in many ways, one of them being able to offer many photo editing and enhancement tools to users in one place. Other than that, the platform offers other incentives such as AI based technologies, useful features, and more. With an online platform like this, you will be able to consistently do photo editing smoothly, get good results, and boost overall efficiency in work.
VanceAI offers something called Productivity Series, which consists of useful photo editing and enhancement tools that are also commonly used by many people. Some of these tools are AI image upscaler, background remover, image enhancer, and more. By combining all of these tools together, you can deal with most image related issues in one place and get everything done quicker. At the same time, the platform makes photo editing really easy for the users and so they don't have to worry about not being an expert in photo editing. Most of the work is done by simple clicking. A series such as this is highly useful for users who like to edit images regularly, even if not in a professional manner. You can improve all kinds of images, from cartoon wallpapers to travel photos.
Pros:
VanceAI takes many steps to be more accessible to users. Their recent launch of VanceAI JA now makes it possible to use the platform in Japanese.
The UI design of VanceAI makes it very easy for users to get into the platform and understand it. Even beginners can smoothly operate it and get results.
It is now possible to use VanceAI on PC as well. The VanceAI PC version brings VanceAI tools offline along with other features.
Cons:
Limited compatibility in terms of image file formats. VanceAI supports JPG, JPEG, and PNG but it can extend that.
Sometimes a page may require you to reload the page or re-upload an image due to unresponsiveness.
What is VanceAI?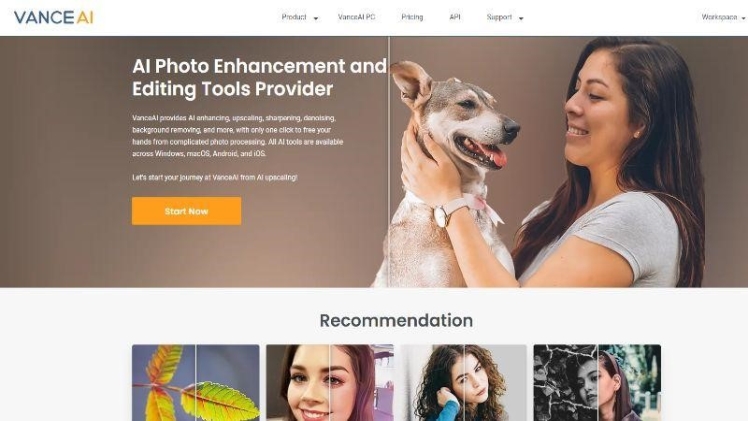 VanceAI is a platform that combines many useful components to provide a comprehensive experience to users. It has a really well designed UI that makes sure that it is really easy to understand but at the same time, up to professional standards. Photo editing needs are increasing day by day due to many factors, one of them being the constant need for content for marketing and other purposes. With this, many newcomers find themselves in the need for a photo editing application but the software ones are usually too complicated. With VanceAI, you can rely on the automatic image processing of AI based technologies in order to get the work done easily.
also offers other useful features such as the Workflow. This allows you to queue up various VanceAI tools that will work on the image one after another. This makes the results look better and apply solutions at the same time. For instance, if you wanted to upscale an image and remove the background at the same time, you can queue them up in the Workflow. The app will follow the steps and save your time.
Features and Example Images from VanceAI Productivity Series Tools
This section takes a look at the tools provided by the series in some detail. The review deals with six products out of the twelve that are offered in the series.
1. Give Pictures a Quality Upgrade with VanceAI Image Enhancer
Even with modern cameras and smartphones, there is a need for photo enhancement because such tools are capable of analyzing images deeply and find subtle ways of improving their quality even more. With VanceAI Image Enhancer, you can improve the quality of basically any kind of photos. When inside the VanceAI Enhancer Workspace, you can choose the type of image that you want to improve the quality of. The options are Standard, Text, Anime, and Art. Hovering over each option will reveal more information and context, which will help you decide what you should choose. The tool will also show you the before-after comparison image next to the options when hovered upon. Other than that, you can also set the level of sharpness that you want in the final image. Therefore, there is certainly some level of control you get as a user.
The Image Enhancer is a reliable tool and in this example, the tool makes the After image look richer in terms of color and presentation. It also changes the tone and depth of colors as well. The black above the beak is noticeably darker in the After image. The color of the beak is also darker and richer in the After image, making the bird look more outstanding.
2. Sharpen Up Your Images with VanceAI Image Sharpener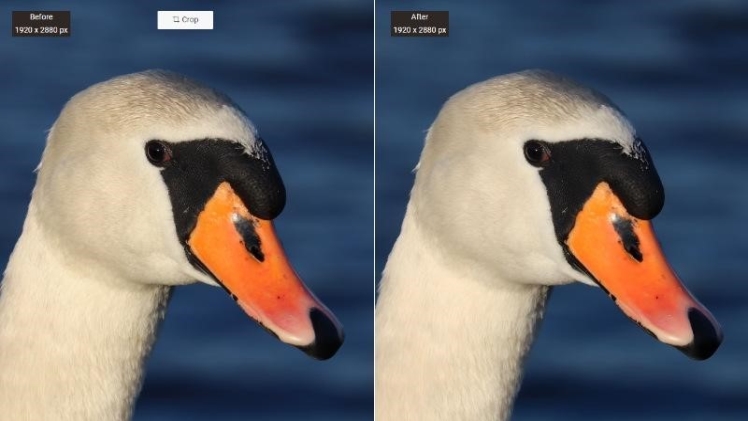 VanceAI Image Sharpener is VanceAI's deblur tool online. This tool is also featured in the software version of VanceAI, which you can access by clicking on VanceAI Image Sharpener for Windows. Getting blurry pictures is definitely not unheard of, and they are much more common if your camera is shaky or doesn't have the correct settings applied for the type of photo you're currently taking. Regardless of all the causes, blurry pictures can be frustrating as it takes away the sharp quality of an image. Intentional blurry effects exist too, but are usually kept as artistic choices and they are situational. With the Image Sharpener, you can get rid or reduce blur to a noticeable extent within a few seconds only. Removing blurs can be complicated but with the AI based technologies of VanceAI tools, you can achieve results easily.
There is a spot which the tool left blurry but overall, the difference between the old and the new image is huge. The blurriness in the new image is heavily reduced and the image also looks much sharper than  before. Not to mention that the character has a clearer presence in the After image as well. The best part about this image is how the tool sharpens the door in the front. It manages to maintain the details really well and give it great color.
3. Clear Out Images from Noise with VanceAI Image Denoiser
VanceAI Image Denoiser is the tool to use when there is a lot of image noise in the picture. Image noise or film grain can be unintentional or intentional, similar to blurs. Also, film grain can actually be used as a tool for adding some aesthetic value to the image. However, the Image Denoiser is a needed tool because it enables users to control the amount of image noise that they want in the final image. By using the slider option for sharpness and image noise reduction, they can customize their images easily. Users can either remove a massive amount of image noise or just a little.
The Image Denoiser makes the background look way better than before. If you look carefully, you can notice the cars and the bridge easily compared to the old image. With this tool, you can remove image noise from most kinds of images and give them a completely new look. The sky looks cleared out in the After image as well. You simply have to use a couple of slider bars to control the final image to some extent. If not, you can always leave it to the tool to figure out the best settings.
4. Make Pictures Larger in Seconds with VanceAI Image Upscaler
Along with good quality pictures, users also tend to require their images to be bigger so that they can use it online for different things or on different platforms. Things such as wallpapers, cover photos, banners, etc are pretty common on social media and other similar platforms. Many image upscalers increase the size of the image but not the quality. VanceAI Image Upscaler uses advanced AI algorithms similar to the Image Enhancer to ensure that your images are not only larger in size but also better in terms of quality. When using this tool, you simply have to choose the amount of upscaling you want to do with the image, from the lowest option being 2 and the highest being 8. If you use VanceAI Image Upscaler for Windows, you can upscale images up to 40 times.
The above example image has been upscaled twice the size of the original and the image looks pretty clean and sharp. Not to mention that the slight reduction of image noise also contributes to making the picture have a better color tone than the previous image. With the Image Upscaler, you can use the settings in the Workspace to enhance the image quality.
5. Edit and Improve Images with VanceAI BGremover
BGremover is an incredibly useful tool from VanceAI that allows users to not only remove background from images, but also edit the images further and put a creative spin on them. There are more manual options to this tool compared to the others. When it comes to using BGremover, you can first upload an image and choose whether to focus on the object or the human figure in the image. The tool will remove the background accordingly. After that, you can use the Change Background button to edit the images further. You can apply a different background to replace the empty one. It can be a scenic image, solid color image, or something you upload yourself.
The tool provides accurate results as you can see from the example image given above.
6. Make Passport Photos without Efforts Using VanceAI Passport Photo Maker
VanceAI Passport Photo Maker is a really good tool for creating passport photos online without needing to edit anything yourself. The tool has BGremover embedded into it which enables it to remove the background from your headshots or portraits and instead replace them with a solid white background. Since the white background is a rule for most passport photos around the world, being able to do this automatically is a big help. Once you click on the link and get to the tool page, you will be able to create a passport photo in just about 5 steps. You can even select the country you want so that your photos are automatically adjusted in terms of dimensions. All you'd have to do after is use them online for passport forms.
VanceAI Pricing
VanceAI is a pretty inexpensive platform to get started with. For complete starters, you can create your free VanceAI account from the website and start receiving 3 image credits per month for free. You can make an account faster if you link your Google account with the platform.
You can purchase a 100 image credit per month plan for just $4.95 per month while also getting exclusive features, which is also common for other paid plans. The 200, 500, and 1000 image credit plans cost $6.95, $11.45, and $17.95 per month respectively.
VanceAI also offers other components such as the software version and the API. The software version starts with a $19.99 per month subscription whereas the API starts with a $39.8 plan that offers 1000 image credits.
VanceAI Alternatives
VanceAI offers alternatives that are completely free to use tools but they do not offer the exclusive features of the VanceAI platform, such as batch processing and more. You can go to photoenhancer.ai to use it as an alternative to the Image Enhancer. Apart from that, you can also use image-upscaler.com as an alternative tool to upscale images. Besides the photo editing tools, VanceAI also offers a free to use, online PDF processing application that goes by VancePDF.com.
Final Verdict
VanceAI Productivity is a highly recommended product because it can offer a professional grade experience to users online, which is not common at all. The VanceAI platform has definitely worked on their UI system, especially with useful features like the Workspace and Workflow, making photo editing smooth and easy for all kinds of users. Not to mention that you can get full access to VanceAI at the price of just $4.95 per month, which makes the platform one of the most affordable as well. You can also approach visuals differently through other tools from Creativity Series. Now with the platform expanding itself with the introduction of VanceAI JA, VanceAI PC, and their brand new tool, AI Art Generator, right now is the best time to invest.