With photo editing becoming more and more common among casual users and professionals, it has also become common to see the same kind of images being used online for personal and professional use. While that is not really a big problem, adding a bit of creativity to your visuals can definitely elevate the quality of your promotions and give you an advantage over many others. Creative photo editing is definitely an important part of photo editing as it helps viewers see your content in a different way, which can perhaps lead to more engagement and sales. Not to mention that with applications such as VanceAI making it possible for pretty much anyone to get creative with their photos, there is increased potential.
VanceAI.com offers the Creativity Series which is made up of some of the best tools for photo enhancement and more. These tools include an old photo restoration tool, photo colorizer, and more. By using these tools, you can present your content in different ways on your websites, social media, and many other online platforms. Given that the tools are powered by AI and other similar technologies for image processing, you will be able to get results quickly and in high quality. The Creativity series tools are capable of changing your images in small to big ways, depending on the situation. As a user, you simply have to focus on the kind of changes you want in your pictures.
Pros:
VanceAI has a pretty active team that always works on new updates and fixes for their tools in the platform.
It has one of the simplest and effective UI designs, enabling even beginners to do photo editing in a productive way.
It offers affordable ways of subscribing to the platform while also offering a free trial.
Cons:
It can be unresponsive at times and may require the user to reload the page.
The software version can have more tools.
What is VanceAI?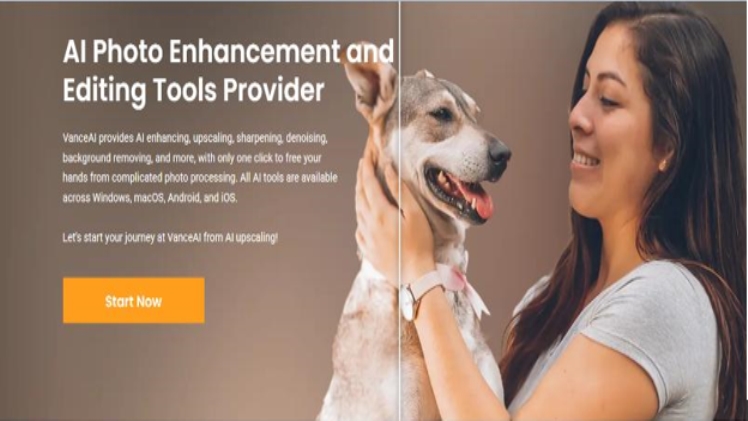 VanceAI is a platform that offers a ton of photo editing and enhancement tools designed for user convenience and accessibility. The incorporation of AI and Machine Learning based technologies is with the intention of making photo editing simpler and less daunting for professionals and beginners alike. When using VanceAI, you will be able to generate high quality outputs with little effort and time, which is not always the case with photo editing, especially on software applications. The Creativity series offers old photo restoration, photo to sketch maker, and more, in order to offer users creative options for their images. Users can change the look of their portraits, landscape images, old damaged photos, and more with this series alone.
Another advantage that comes with the series is the fact that you can do all of this in one place instead of having to use multiple platforms. The VanceAI UI allows users to seamlessly switch between different photo enhancement tools and also make them work together. VanceAI, as a platform, has more than 15 photo editing tools with more to come. More productive tools from Productivity Series will give you a professional experience. Having these many options under one platform certainly boosts productivity to a good extent.
VanceAI Creativity Series Tools Overview with Output Images
We will now take a look at the tools provided by the Creativity Series along with their features and performance.
1. Transform Damaged Visuals with VanceAI Photo Restorer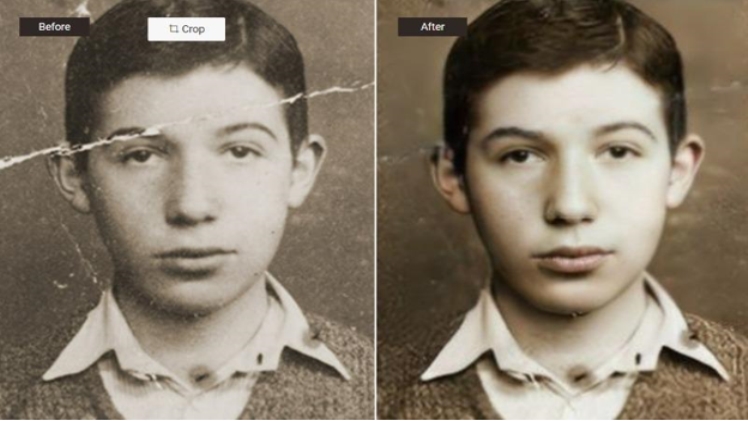 Old photo restoration is a difficult task in photo editing as it involves many processes. When searching for it online, you will also come across services offered by professionals. Users tend to repair old family photos and give a new look to old historical or vintage photos as well. Many artists also tend to use such tools for photography and more. VanceAI Photo Restorer makes old photo restoration accessible to a lot of users due to the fact that it is AI based and automatic. When using this tool, you can upload an image and choose the Restoration option in the Workspace. The tool will then automatically restore the image to the best of its ability and report the result image in a few seconds. Some images, depending on their complexity, may take more time.
As you can see from the final image, the old photo restoration tool can clean up much of the damage from the image in a really short time. The final image can then be used in many ways. In this example, this is an old family portrait that you can save digitally to preserve its quality or you can make an album out of multiple old family photos, starting with this photo. Similarly, you can give a different look to vintage and historical photos as well.
2. Enhance Black and White Photos with VanceAI Photo Colorizer
VanceAI Photo Colorizer is a highly useful tool that can completely change the look of your photos. There are many black and white photos that you can find online or through photography. While black and white photos are their own aesthetic and add immense value to your visual content catalog, their colored versions can be equally valuable and give the photos a new perspective. This is especially true if the photos are old black and white photos. Using this tool is pretty simple, as you have to go to the same Workspace as the photo restorer and choose the Colorize option. You can set the rendering factor to max to get the most colorization for the image.
The Photo Colorizer tool manages to offer realistic color tones to the images it processes in most cases. As for this example, it can be seen that the color tone given to the final image is balanced and attractive. Moreover, the photo colorizer tool maintains all the finer details of the image perfectly, which makes the final image look much more realistic and complete. The final image was processed and provided within a few seconds only. Lastly, you can combine this tool with the photo restoration tool in order to repair the damages of the old images as well as colorize them to give them a brand new look.
3. Create Impressive Line Drawings with VansPortrait
VansPortrait is one of the most essential creativity tools offered by VanceAI as it helps users create line drawings out of portraits automatically and artistically. The tool can be used to convert your own photos into impressive line drawings that you can later use online for various purposes. VansPortrait gives users a creative and artistic angle to their photo editing without needing them to create the art by themselves. Due to AI, there are many tools being created with a similar principle as this tool.
From the example image above, we can see that VansPortrait can provide accurately traced drawings. Final images like these can easily be used as profile pictures and similar for many users' personal profiles. Not to mention that many creatives would like to present themselves in different ways and this tool provides the means to do so. When using this tool, you can choose the kind of drawing that you want to convert your image to. Thus, the above drawing is just one example out of many that you can choose. The drawings also include a colored art version of the photo you upload.
4. Transform Your Photos by Using Toongineer Cartoonizer
Toongineer Cartoonizer is similar to the previous tool mentioned except that with this tool, you can transform an entire image in order for it to look like a cartoon or anime. You can change the aesthetic of an image within a few seconds only and make the image look highly creative. The kind of results that you can get from this tool are similar to visual art that you see in digital art, graphic novels, cartoon wallpapers, and more. You can easily use this tool along with the VanceAI Image Upscaler in order to create artistic wallpapers. Naturally, this tool will be highly appealing to casual users who like to experiment with their images. However, you can also use this tool professionally if you're someone into creative fields such as graphic designing, digital art, and more.
The creative tool from VanceAI gives a different look to the image but at the same time maintains the primary themes and colors. While the final image may appear a bit too outlandish at times, it is remarkable with the right resolutions. Users can find and create a lot of creative images just through this tool. With the batch processing feature, you can create such images even faster.
5. Add Subtle Improvements to Photos with VanceAI Photo Retoucher
VanceAI Photo Retoucher can be an excellent addition for photographers who prefer to do a bit of post-production editing on their photos. As the name suggests, it can alter images in subtle ways but enough to make the image look different from before. The changes don't change the image in a significant way. When using this tool, you can choose one from the two options given in the Workspace regarding the way of editing the image. You can either enhance the image by changing the lighting of it or by its colors. Both ways change the image differently and so, it is better to use both options on your picture one by one and compare.
The final image in this example shines through. There is a major improvement in the color fidelity of the image as well as some minor lighting adjustments. However, these changes alone give the image a completely different feeling.
6. VanceAI Art Generator Creates Visuals from Text
VanceAI Art Generator is the latest addition to the Creativity series. This is an impressive AI based tool that can generate art simply based on the description given by the user in text. You can also use other types of settings to get more specific results. When using this tool, you can play around with settings such as Image Type, Image Style, Artist Style, and more. The Image Type has options such as oil painting, matte painting, canvas, and similar. The Image Style option includes options such as impressionism, Chinese painting, cyberpunk, and many more. The Artist style option lets users choose which artist should the final image try to imitate, with options such as Van Gogh being among the many to choose from.
From the image above, it can be seen that it is definitely worth trying to create art through this tool as it can come up with some pretty impressive work. With the same description but different Image Type, you can have a completely different image. Moreover, you can also adjust the width and height of the image beforehand, which can allow you to create artistic wallpapers instantly.
VanceAI Pricing
VanceAI is usable just by creating an account. Once you get an account, you will receive 3 image credits per month for free and these credits can be used for any VanceAI tool.
When it comes to the paid options, you can start off with the 100 image credits plan, which only costs $4.95 per month and with extra image credits. Other than that, you can purchase the 200, 500, and 1000 image credits plan that cost $6.95, $11.45, and $17.95 per month respectively. All of the paid plans offer exclusive features such as batch processing, faster online servers, and much more.
Apart from this, VanceAI has VanceAI PC, which is the software version of VanceAI, which begins with the subscription of $19.9 per month.
VanceAI Alternatives
Outside the main VanceAI tools, VanceAI also offers alternatives that function in a similar way to their VanceAI counterparts but with a few key differences. VanceAI alternatives are fully free to use but they do not have any exclusive features of the VanceAI platform. If you want to restore old photos, you can use photorestoration.ai as an alternative. Also, you can use colourise.com as an alternative to the VanceAI Photo Colorizer. Besides these tools, VanceAI also offers a PDF processing tool online that is also free to use and goes by VancePDF.com.
Final Verdict
VanceAI Creativity series has a big advantage in terms of the tools that it provides, not only because they provide some really good looking visuals but also because they are all organized under the design of VanceAI. This allows users to easily get into this type of editing. VanceAI can also offer all of these tools for just $4.95, which is another big factor in terms of accessibility for users. Not to mention that VanceAI recently launched VanceAI JA as well, which makes the platform available in Japanese. With a good performance, paid plans, and other features, VanceAI is definitely a great choice regardless of the type of user.