Have you ever wanted to edit a PDF document but found yourself frustrated with the limitations? Maybe you received a PDF resume or report and needed to make some quick changes before sending it off, only to discover PDFs aren't easily editable. Don't despair – there's an easy solution. With UPDF, one of the best PDF to Word OCR converters, you can instantly unlock your PDFs and turn them into fully editable Word documents.
With UPDF, you'll be editing, revising, and repurposing your PDFs in no time. No more printing, scanning, and retyping. So, let's discuss everything related to this powerful tool that converts PDF to Word with OCR. Your PDFs will never limit you again!
The Ultimate Solution for Converting PDF into Editable Word with OCR
Have stacks of scanned documents just waiting to be edited? Meet UPDF, your new best friend for converting PDFs into editable Word files. Using advanced OCR technology, UPDF recognizes and turns scanned PDFs into selectable and editable text. Forget retyping or struggling with blurry text – with UPDF, your PDF might as well have been born as a Word doc!
The conversion process is lightning-fast. In just seconds, UPDF will transform your PDF to Word with OCR, which you can freely edit, copy from, and build on. UPDF delivers stunning accuracy, capturing fonts, formatting, and layout with precision. The best part is that UPDF can convert PDF files to various formats, such as Word, Excel, PowerPoint, CSV, RTF, Text, Image, HTML, XML, and PDF/A. That means you can convert your PDF files to 14 different formats!
Whether you need to revise an old report or repurpose content from the web, UPDF makes it possible. This powerful yet easy-to-use tool gives you back control and flexibility over your documents. Why waste another minute? Experience the joy of editing a PDF as freely as any Word file. UPDF is the ultimate solution you've been waiting for!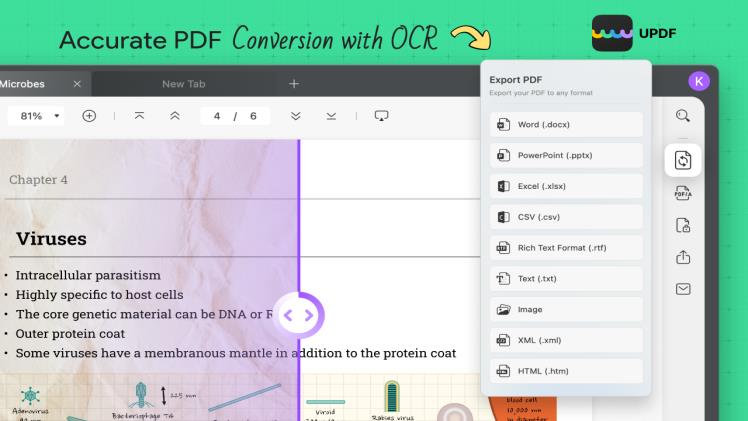 Step-By-Step Guide: Convert PDF to Word with OCR
You'll be amazed at how effortlessly UPDF's OCR technology can convert your scanned PDF to an editable Word doc. Just follow these simple steps:
Step 1. Download and Install the App
Download and install UPDF on your computer from its official website. You can also use UPDF online without any installation.
Step 2. Launch the App
Launch UPDF and click "Open File" to import the scanned PDF document. If you want to recognize text from an image file, you can also click the "Create" button on the top toolbar. Choose "From Image" and select the scanned image you want to convert to PDF. You can also drag and drop the image into the program.
Step 3. Initiate the OCR Process
Click the "Recognize Text Using OCR" button on the right-side toolbar. Make sure you are in the "Searchable PDF" mode in the new window. Now you can select the layout and document language for more accurate recognition. You can also adjust the page range and resolution of the OCR process!
Then, just click "Perform OCR," and UPDF will use optical character recognition to transform your scanned PDF into a fully editable PDF document! Their advanced OCR can handle documents in almost any language and format.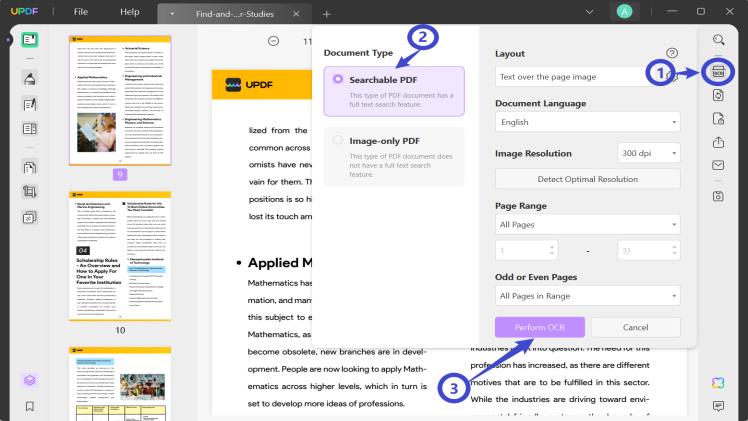 Step 4. Export PDF to Word
After performing OCR, the editable PDF will open in UPDF automatically.  Review it to ensure all content was captured correctly. Make any needed fixes before proceeding with conversion.
Now you need to click the "Export PDF" icon on the left toolbar. A pop-up window will appear where you can choose the output format by "Word." In the new window, you need to click the "Export" button and choose the destination for your Word document.
Finally, open the Microsoft Word document. You'll find that UPDF's OCR preserved all the original formatting – fonts, alignment, column structure, images, and more. Your scanned PDF has been given a new digital life, ready for you to revise, reuse, and share!
With UPDF's OCR PDF to Word converter, transforming scanned files into editable documents is efficient, effortless, and entirely accurate. Why retype when you can let artificial intelligence do the work for you? Experience the power of OCR and see how much time it can save you!
Other Top Features of UPDF that You Shouldn't Miss Out
UPDF is not only a PDF to Word with OCR converter but also a versatile PDF editor that offers many other features. Here are some of them:
Edit PDF with Ease!
UPDF hands you the tools to reshape PDFs effortlessly. Play with text, fonts, colors, and alignment – molding your content to perfection. From images to pages, embrace the freedom to insert, delete, crop, rotate, and resize. Sprinkle personality with headers, footers, page numbers, and captivating watermarks. On top of it, you can work with hyperlinks, bookmarks, and dynamic comments to make your PDF more engaging!
AI Integration in UPDF
UPDF uses artificial intelligence to enhance your PDF editing experience. UPDF AI can translate your PDF files into any different languages, such as English, French, German, Spanish, Chinese, Japanese, and more. This can help you communicate and share your PDF content with people from different backgrounds and cultures.
Want a quick overview of a lengthy PDF file? Let UPDF AI do the magic. It can automatically generate a summary of your PDF files, highlighting the main points and keywords. This can help you save time and get a quick overview of your PDF content. That's not it! With robust AI functionalities by UPDF, the possibilities are endless!
Swift PDF Annotation
UPDF enables you to annotate your PDF files with various tools. You can highlight, underline, strike out, or squiggle the text in your PDF files. You can also add sticky notes, text boxes, stamps, shapes, freehand drawings, and signatures to your PDF files.
Make a mistake while annotating? Fret not! With the eraser tool, you can eliminate any mistakes without any hassle!
Master PDF Organization
UPDF empowers you to conquer chaos. Rearrange, delete, insert, extract, split, or merge pages seamlessly. Rotate and crop with finesse to rejoice your PDF file. Create outlines and bookmarks for effortless navigation.
A Solution for All Your Problems:
UPDF also provides other features that can improve your PDF workflow. Reduce the size of your PDF by compressing images and removing unused resources. Flatten your form fields to create a static PDF from an interactive form.
You can also use a batch process to convert multiple scanned PDFs to Word with OCR simultaneously! This saves you time and effort. You can also password-protect, encrypt, decrypt, or sign your PDF files for security purposes.
UPDF Vs. Adobe Acrobat – Which One is the Best?
If you are looking for the best PDF to Word converter with OCR and other PDF editing features, you may wonder which one is better: UPDF or Adobe Acrobat. Both of them are popular and powerful software that can handle various PDF tasks, but they also have some differences that may affect your choice. Here is the detailed comparison between the two software:
According to the comparison chart, we can conclude some of the advantages of UPDF over Adobe Acrobat:
Pricing
UPDF is more affordable than Adobe Acrobat. UPDF offers a standard version for $29.99 per year or a perpetual license for $45.99, while Adobe Acrobat Standard DC costs $155.88 per year and Adobe Acrobat Pro DC costs $239.88 per year. UPDF also offers a free trial for you to try out its features before buying.
System Compatibility:
UPDF is more compatible than Adobe Acrobat. UPDF can work on Windows, Mac, iOS, and Android devices, while Adobe Acrobat Standard DC only works on Windows devices. This means that you can use UPDF on any device you have and access your PDF files anytime and anywhere. What's more? You only need to purchase once to use on all 4 platforms as UPDF allows you to use 4 devices simultaneously.
UI Design
UPDF has a more user-friendly, minimalistic, intuitive interface than Adobe Acrobat. UPDF has a simple and clear layout that allows you to find and use the features you need easily. UPDF also has a drag-and-drop function that lets you add rich text to your PDF files by simply dragging and dropping them from other sources. Adobe Acrobat has a more complex and cluttered interface that may confuse or overwhelm some users.
Performance Speed
UPDF is faster than Adobe Acrobat. UPDF can convert, edit, annotate, and organize your PDF files in seconds, while Adobe Acrobat may take longer to process your PDF files. UPDF also has a batch processing function that lets you handle multiple PDF files at once, saving you time and effort.
AI-Powered Features
UPDF has AI-powered features, but Adobe Acrobat doesn't. UPDF uses artificial intelligence to enhance your PDF editing experience. With UPDF AI, summaries are a breeze. It automatically generates succinct summaries, spotlighting key points and keywords. Moreover, it can also translate your PDF into numerous languages and also provide insights into synonyms and definitions. Adobe Acrobat does not have these AI-powered features.
The Takeaway!
So there you have it. With UPDF, you now have an incredible tool at your fingertips to unlock the full potential of your PDF files. No more will you be stuck with static documents that can't be searched, edited, or reused. UPDF's advanced OCR technology will scan and convert your PDFs into fully editable Word documents in a flash.
Your newly converted files will look exactly like the originals but now be bursting with possibilities. What are you waiting for? Start converting your PDFs today, as UPDF has a 63% off sale! This will open up a whole new world of productivity and creativity. The future is editable!