The advantage of using an influencer marketing app is twofold. You will need Influencer marketing apps to manage your social media postings and establish your online presence more effectively as an influencer. Additionally, an influencer marketing app allows businesses to identify and connect with niche-relevant influencers aligned with their brand and target audience. While most marketers believe that selecting the right influencer remains their biggest challenge, the necessity of using an influencer marketing app becomes even more essential than ever.
So, if you plan to leverage Instagram to grow your business, you should consider the numerous opportunities that an influencer marketing app offers to achieve your business goals. Then continue reading this post to find out why it is crucial to have the influencer marketing app and how to become a content creator you can use it to make money on Instagram.
Why Using an Influencer Marketing App Is Essential?
While influencers can undoubtedly increase brand awareness and sales, they also have the power to damage it with negative comments, improper presentations, and a lack of brand alignment, among other risks. In general, creating a successful influencer marketing campaign can be risky, as it is powerful and versatile. It requires good management and monitoring skills for effective execution. If you do it wrong, you will end up wasting your budget. But if you do it right, you will achieve fantastic results. Yet, it is one of the most popular eCommerce trends of the past five years.
Some businesses would instead outsource the entire task to reliable influencer marketing companies, but many prefer to handle everything internally, using influencer marketing apps and platforms. Hence, influencer marketing apps are tools designed to help brands find relevant influencers, manage influencer relations, and calculate the ROI of their campaigns more conveniently and effectively.
How to Make Money From Instagram With An Influencer Marketing App?
Instagram is particularly appealing to brands when it comes to influencer marketing. This popular social media platform controls 68% of the influencer market for brands. That is massive compared to Facebook at 43% and YouTube at 36%.
Source: Influencer Marketing Hub.  
However, getting the maximum ROI out of your Instagram influencer campaign is not as easy as it sounds. Brands need to find influencers who fit their KPIs, negotiate the best prices to keep costs low, grow trustable relationships with influencers and constantly track the performance of campaigns. While influencer marketing is a foreign topic for many business owners, most influencer marketing apps are in tune with the latest trends. They know the necessary components to increase your sales through launching successful Influencer campaigns. Therefore, employing an influencer app will save and make you money. Now, let's explore how?
1. It Identifies the Right Influencers for Your Brand
Brands and Influencers sign up on the app and set rules and conditions about who they want to work with. These apps feature quality filters through which you can choose to work with intended influencers. You can search for influencers through the app based on their following, payments, age, gender, location, and more. Then the app shows the matching results to bring you closer to influencers aligned with your brand's values and objectives. Therefore you don't have to waste time looking for millions of influencers and their contact information on your own. Once you sign up, you can easily select and add your favorite influencers to lists and have complete access to their contact details.
Furthermore, when using the app, you reduce the chance of partnering with fake or fraud influencers who have secured large followings by shady means, like buying fake followers. The app analyzes each influencer's profile based on their reach and engagement rate to provide you with trustworthy influencers.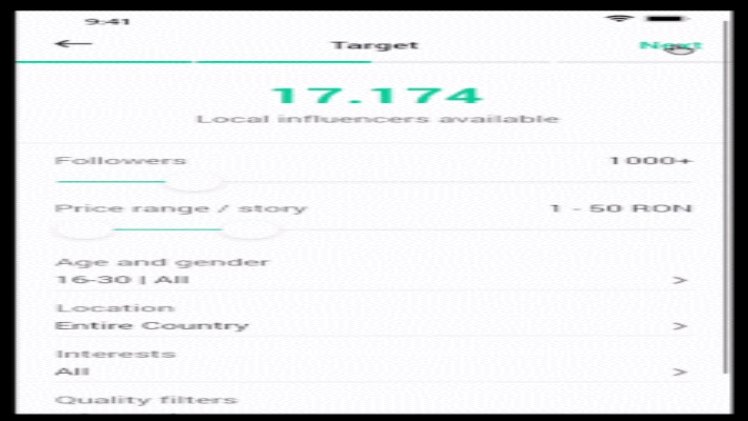 2. It Enables Brands to Reach Engaged and Targeted Audiences.
Once you have selected and connected the right influencers, you can reach out to highly engaged and targeted audiences who have a genuine interest in your products or services. If you do not get in touch with your target audience, you will risk losing them to your competitors. That is why brands should do everything possible to reach as many targeted followers as they can to maximize their marketing ROI. Apart from using an Instagram growth service, an influencer marketing app can be a helpful tool for gaining more targeted and interested followers on the platform.
3. It Allows You to Manage Your Campaign More Effectively.
Influencer relationship management is all about developing strategic relationships with influencers. An influencer marketing app plays a crucial role in helping brands manage their relationships with influencers. For building better relations with your influencers, keep in mind that they are not your employees but strategic partners.
If you have selected the right influencers, give them creative freedom to design promotional content, whether for an Instagram giveaway, contest, or anything else. Then you can step in yourself and use an Instagram giveaway picker to choose the winners.
After all, who knows their followers better than themselves? Most apps provide a context where you can chat with selected influencers and give them some guidelines or recommendations. Also, while conversing, you can tell them about your business, goals, and the messages you want to convey. A simple conversation with the influencer would be ideal.
4. Your Payment Is Secured.
Influencers make a living from excellent content they create with their energy and passion. If you Google search how much to pay influencers, you might be shocked by varying rates. It is because the final price depends on different factors, including the type of content, niche, and analytics of each influencer. An influencer marketing app will help you find out the standard rates in your industry and optimize your budgets based on key performance indicators (KPIs). Thanks to the app, you will easily find the right price to pay influencers. Furthermore, these apps will help you pay multiple influencers at once. You can also choose from numerous payment methods to pay your influencers when you are satisfied with their work. If you face problem with trust you can set up the escrow deal on seo marketplace like fiverr or upwork.
5. It Tracks Your Campaigns Performance
As an Influencer or brand, you know how important data is when making influencer marketing decisions. In essence, understanding the data behind influencer marketing campaigns is the first step towards making better decisions and setting up strategic campaigns. The app allows you to get insights into the influencer's social media profile. Thus, you can see actual data on those influencers who want to work with you. Do you care about large followings? Engagement rates? Or something else?
The app provides all the data to help you make informed decisions based on your key metrics. Moreover, an Influencer marketing app enables you to understand what content produces desired results, allowing you to promote them in the future.
Final Note
An effective and efficient influencer marketing app will benefit both brands and influencers alike. It helps you build, execute, measure, and scale your Influencer campaign, reducing the time and complexity required for the campaign to succeed. Using the app will help you work smarter in today's digital world.
Have you ever tried an Influencer marketing app? If you have any experience in this regard, please share it with us in the comments below. We would be delighted to hear from you.