Many premier watchmaking companies in the world construct cost-effective watches. These timepieces are manufactured to a high standard of engineering and boast many different features, a fascinating historical background, and a myriad of chic, exciting, and one-of-a-kind styles. On our selection of the most reasonably priced watches, you will discover some fantastic models that provide outstanding quality. Read on to learn more about your best options for buying an inexpensive watch under $500.
Questions to ask yourself before picking a timepiece
What kind of watch movement and materials am I looking for?
Before you go shopping for watches, it is important to be aware of the different kinds of watch movements and materials available, as they will determine the price and style of the watch. Quartz watches (which need a battery) tend to be cheaper than mechanical watches, while stainless steel is usually more budget-friendly than titanium, carbon fiber, and other more luxurious metals. Doing some research on your own can help you make the right purchase.
What kind of design best fits my outfits?
When it comes to purchasing a watch, the design is crucial to consider. You can pick from a tremendous range of compositions, from flashy to sleek, sophisticated to glamorous. Make sure to select a watch that matches your fashion sense and fits in with your usual attire. If you prefer to dress in vibrant colors, eye-catching designs, and unique accessories, a watch that is more noticeable may be suitable for you. Conversely, if you tend to be more conservative with your fashion choices, you should choose a watch that is delicate and sophisticated.
Here are some of the best affordable watches under $500.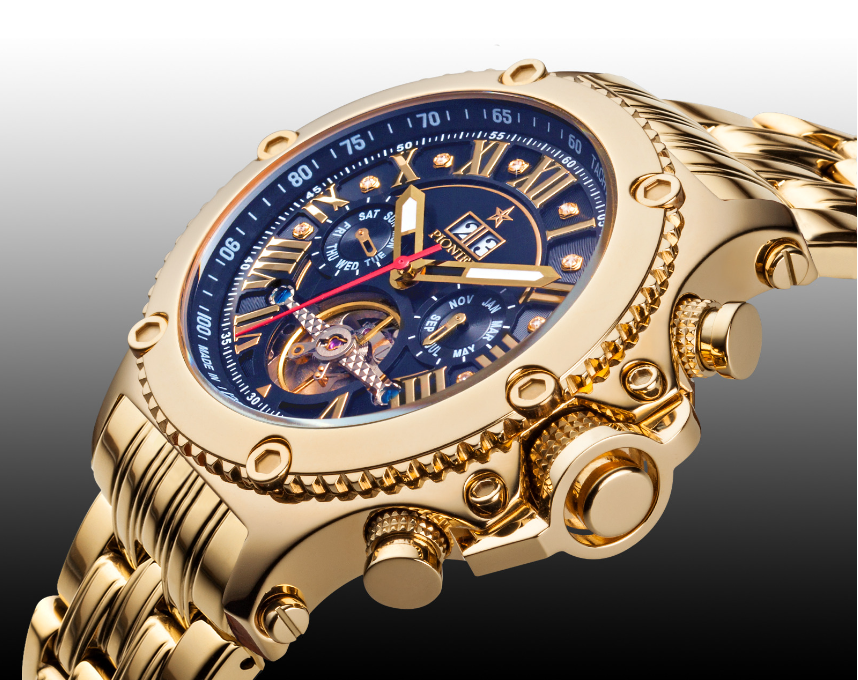 New York Diamonds Pionier | GM-511-12 | Gold
If you prefer watches which feature striking diamond designs, New York Diamonds from the Pionier collection is sure to please you. Built with an in-house automatic movement with 20 rubies this full calendar watch is both reliable and fashionable. Adorned with 8 diamonds and gold Roman numerals, this striking gold men's watch is a sight for sore eyes.
Its open front and back composition and detailed blue dial create a marvelous appeal. Equipped with a gold stainless steel bracelet and butterfly buckle, New York Diamonds provides optimal security and comfort. Moreover, the sapphire coated lens guarantees amazing scratch resistance and durability. An ideal pick if you're looking for a high-quality watch under &500.
San Francisco Theorema | GM-116-3 | Gold
One of the best inexpensive watches in the market that delivers high-end quality, San Francisco from the Theorema collection is guaranteed to win you over. Crafted with an in-house mechanical movement with 20 rubies, this masterful gold watch is one of the most accurate timepieces in the industry. Paired with a genuine cow leather band in brown, this German timepiece ensured superb durability.
What makes this watch stand out from the rest is the completely see-through composition. The open front and back design is brilliantly combined with the elegant luminous hands. One of the best options for those who are looking for a mesmerizing skeleton watch, San Francisco is bound to  satisfy even the most intricate taste.
Florida Diamonds Pionier | GM-505-9 | Blue
This exquisite model from the Pionier collection is a brilliant choice for those who want a blue diamonds watch, Florida Diamonds is the timepiece for you. This full calendar men's watch is beautifully adorned with 12 diamonds, creating a hypnotizing visual aesthetic. Made with an in-house automatic movement with 20 rubies, this robust watch is built to last for years.
The finely detailed blue dial is paired with a blue genuine leather strap, providing the most harmonious look. Putting the watch on and taking it off is a piece of cake with the butterfly buckle. Perfectly secured on the wrist and extremely comfortable, Florida Diamonds is one of the most versatile timepieces in the market. Stylish and reliable, this is an ideal watch for the practical and extravagant gentleman. 
Lagos Theorema | GM-113-2A | Silver
This model for Lagos from the Theorema collection is unforgettable. The skeleton design is spectacular, allowing the intricate mechanisms to create a mesmerizing display. Crafted with an in-house mechanical movement with 17 rubies, this timepiece ensures unmatched precision. Produced in a limited stock, this handmade watch delivers amazing craftsmanship and sentimental value.
The luminous hands compliment the skeleton composition fantastically. The look is tied together with the genuine cow leather band which ensures both longevity and a comfortable fit. The fish skin pattern adds an extravagant touch to the whole design. Perfect for both casual wear and fancy events, Lagos is made for the stylish gentleman. 
Boston Theorema | GM-518-6 | Rose
Boston is a fine luxury watch, with an in-house automatic movement with 22 rubies. It features a sun and moon phase compilation, with a multi-tone and multi-patterned dial. The 24 hour indication adds an extra bit of sophistication and luxury to this exquisite timepiece. This watch is a marvel of craftsmanship, and its intricate design is sure to appeal to all watch enthusiasts. 
The features of this luxury watch make it distinct from other watches on the market. Boston is a perfect choice for anyone looking for a watch that stands out from the crowd. Whether you are looking for a timeless classic or a modern piece, this Tufina luxury watch is sure to be the perfect addition to any wardrobe.